– Invitation to Be Amazed –
Often we'll be getting ready to go somewhere and I'll tell my sons, "Okay boys, time to get your shoes on."  So off they'll trot to find their shoes and inevitably, at least one of them will say, "Mom, I can't find my shoes anywhere."  And as they're saying this, they are literally tripping over their shoes.  (Anyone else have children who can't see?)  Of course, they never seem to be blind when it comes to finding the chocolate chip cookies I've hidden away.
Most of us are the same way.  We think we can see, but we really can't.  We're tripping over our shoes and walking in darkness. 
The Bible says that "The people who walked in darkness have seen a great light; those who lived in a land of deep darkness – on them light has shined.  For a child has been born to us, a son given to us; authority rests upon his shoulders; and he is named Wonderful Counselor, Mighty God, Everlasting Father, Prince of Peace."  (Isaiah 9:2, 6)
This passage is talking about the Messiah – the Savior – who would come and save His people from darkness.  That prophecy was fulfilled when Jesus was born.  He was the light that came to shine in our darkness.
Unfortunately, even after we allow God's light to shine on us and save us through Jesus Chrisst, we can often continue to walk in darkness.  We continue to try and live life on our own and do things our own way.  We let the stress of life darken our view of reality.  We let fears and worries keep us walking in the shadows instead of walking in the light.
This Christmas, God is inviting each of us to pay attention to Him and let Him light our way.  God is always with us, speaking into our lives – we just don't always notice.  We're stumbling around in the darkness, trying to find our own way and not even seeing Him. 
Sadly, we are often most blind during the Christmas season.  We get distracted, preoccupied.  We struggle to be fully present.  We struggle not to get caught up in the busyness and materialism of this season.  And we struggle to stay focused on the reason for the season.
And most of us have heard the Christmas story so many times that we don't really pay much attention to it anymore.  It fails to fill us with awe and wonder.  We think, "I know this one – it's a nice story about a baby and a manger and a star and yadda, yadda, yadda…"
Maybe the power of this love story has grown a bit dull for you.  Maybe you're walking in darkness today.  So for just a moment, let me dust off this amazing story and remind us all of who it was that lay in that feed trough on the Holy night in Bethlehem.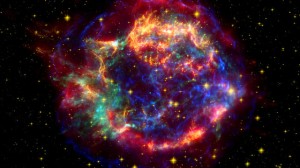 Check out this picture (and the ones below) – they're not computer graphics.  They are actually taken by the Hubble telescope.  If you go to the Hubble website, it will literally blow your mind what we're discovering out in space.  There are things going on in space right this moment that we can't even begin to wrap our minds around.
Would you believe there are actually more than 50 stars in the universe?  (Okay, I was just testing to see if you were paying attention.)  Of course there are more than 50 stars!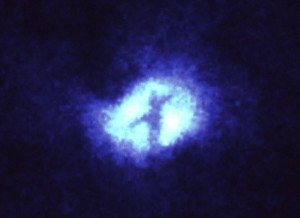 In fact, one galaxy alone can have anywhere from 200 billion to one trillion stars.  And astronomers have no way of knowing for sure, since our telescopes are limited, but currently it's estimated that there are more than one trillion galaxies in the universe.  This is mind boggling!
Our God is truly a God of galactic wonders.  He is truly Lord of heaven and earth.  This is the God – the majestic, awesome, powerful, creative, unlimited God – who came in search of you and me.
This God is bigger than the entire universe, and this God is closer than your next breath.  This God is so big that He holds galaxies in His hand, and He's so close that He knows every single hair on your head.  He's so big that He holds the stars in place, and He's so close that He holds your heart when you're hurting.  He's so big that His love created the world with just one word.  And He's so close that He hears every word of every prayer – even the ones that we dare not say out loud.
This is the God who  broke into history 2,000 years ago, and breaks in again today whenever people seek Him.  This is the God who says, "Let there be light."  And BOOM! There was light – and the light shined in the darkness.  And He's calling each of us today to stop, look, and be amazed by this God who is right here with us – Emmanuel.